Mischief Brew Bio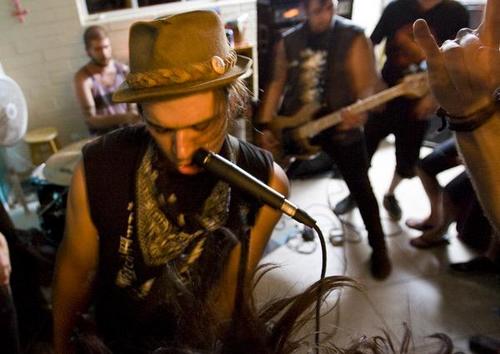 After several years of screaming in West Chester, PA anarcho-skatepunk band The Orphans, Erik Petersen confined himself to a basement with an acoustic guitar, a rickety drum kit, a mandolin, and a four-track to stir a bunch of ideas together into a stew of songs. The resulting concoction was "Mirth: or, Certain Verses Composed and Fitted to Tunes, for the Delight and Recreation of All," an eight-song demo cassette of acoustic punk influenced by medieval danses and raucous dust-raisers. On the spine of the tape (duplicated DIY-style by partners Denise Vertucci and Erik, later forming Fistolo Records), it read: "A Taste Of The Mischief Brew," and included a "Folk The System" patch. There were no names or photos. Just a couple cryptic woodcuts, circle-A's, illustrations of jesters and goblins, and a PO Box as a contact method. The lyrics were certainly anarcho-primitivist and neo-Luddite in tone, perhaps crossing over into a cute, tacky romanticization of the past that was almost Tolkien-esque. But you must remember: punks didn't really have cell phones in 1999, and there was a legitimate fear that technology was going to swallow and consume us. Good thing that didn't happen, right? But I digress...
Since then, Mischief Brew has grown, twisted, and sprouted into one of the true constants of the Philadelphia punk community and beyond. Mixing a variety of genres but never getting too comfortable, the band has somehow managed to be called everything from folk punk to country to circus music at the same show (all and none of the above). Whatever the label, the band has maintained an ardent DIY ethic and anarchic spirit for over a decade and a half, as much influenced by Utah Phillips as The Pogues or Django Reinhardt, New Model Army, Pete Seeger, Motherhead Bug, Levellers, Squirrel Nut Zippers, Amebix, Tom Waits, etc...
There have been numerous U.S. and European tours, playing everywhere from the Electric Factory in Philly to old bomb shelters in Germany, from CBGBs to ABC No Rio in NYC, from 924 Gilman in Berkeley to the Trumbullplex in Detroit...not to mention in attics, basements, barns, underneath train bridges, and on rocking boats underneath the Williamsburg Bridge on the East River. Since that scratchy demo tape, Mischief Brew has also amassed an extensive discography featuring several full-lengths, compilations, collaborations, and split releases with the likes of Robert Sarazin Blake, Bread & Roses, AJJ, Wingnut Dishwashers Union, David Dondero, Joe Jack Talcum, Franz Nicolay, and more.
Mischief Brew released "This Is Not For Children" on Alternative Tentacles in 2015. While past recordings have celebrated travelling, "Children" looks inward and finds inspiration in one's home and city, which when examined can be like a zoetrope winding down, forcing a person to face themselves without the benefit of a different town every day. Meanwhile, Fistolo Records has begun the arduous process of remastering, repackaging, and reissuing all the early releases - starting with the acoustic project's first incarnation as Kettle Rebellion and continuing into "Bacchanal 'n' Philadelphia" (first two EPs), an upcoming re-release of the 2005 debut "Smash The Windows," and certainly more to come. This shows that Mischief Brew is as much forward-thinking as celebratory of the past songs that the kids fell in love with. This translates to the live show, where songs from each release make up a setlist. Every night is a party, and you are invited...